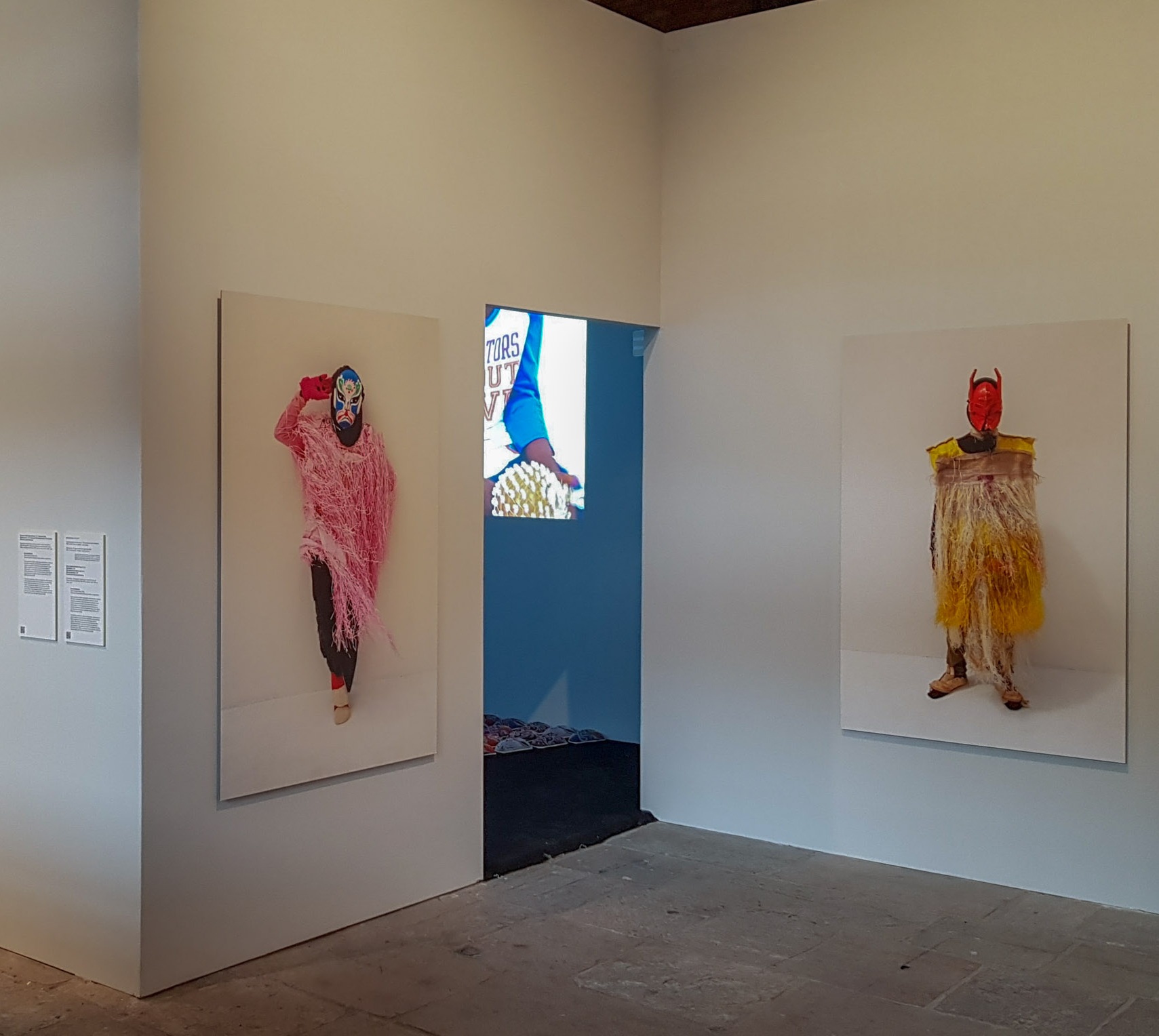 Kaleta/Kaleta, 2014-2017
A multidimensional and transmedia piece, Kaleta/Kaleta incorporates photography, music, digital video processed in real time, performance as well as a reconfigurable multi-screen performative installation inducing the public's participation. It is in the very image of the transcultural hybridizations caused by globalization, which brings made in China Beijing's opera masks to Benin, but also of digitization and technological multiplicity required by the aesthetics of contexture.
(click Next to read on)
The word "Kaleta" refers to a tradition invented in Benin by Afro-Brazilians returned to Ouidah during the nineteenth century. It is a unique mix of Brazilian carnival, American Halloween, and Beninese mask tradition (Zangbeto).
(click Next to read on)
Kaleta is performed by young boys gathered in small bands during the Christmas and New Year period. They go from house to house, dancing and playing makeshift instruments in exchange for small tips. The musicians never wear masks, and their percussive instruments are generally made out of reused material (cans, bottles, pieces of metal, etc.). The dancers are always masked and never talk. They communicate only through gestures and only respond individually and collectively to the name of "Kaleta".
(click Next to read on)
The performative installation Kaleta/Kaleta permanently and autonomously generates, like a digital Kaleta band, performances i.e. always different recombinations of semantic elements, visual, auditory and gestural. It also forms an immersive environment that invites the public present inside the installation to transform into actors. Video and audio motifs recombine, endlessly producing always different performances playing along a fixed tempo of 133 bpm.
Kaleta/Kaleta remixes a uniquely Beninese historical tradition through digital media and technologies, forming a synthesis between memory and vision, past and future, conservation and creation.